Sherlock Holmes is a fictional detective created by Scottish author and physician Sir Arthur Conan Doyle.
The fantastic London-based "consulting detective", Holmes is famous for his astute logical reasoning, his ability to take almost any disguise, and his use offorensic science skills to solve difficult cases.
Holmes, who first appeared in publication in 1887, was featured in 4 novels and 56 short stories.
It has been estimated that Sherlock Holmes is the most prolific screen character in the history of cinema.
But who gave us the most powerful interpretation?
Basil Rathbone
The South African-born actor moved to England when he was three and went on to star as Sherlock in 14 movies from 1939 to 1946.
His Holmes was cool, sophisticated and elegant, and is still regarded by many critics as the best.
Jeremy Brett
He became a household name in the mid-Eighties and played Holmes beautifully for ten years in such ITV series as The Case-book of Sherlock Holmes.
Brett had a piercing stare and eccentric approach to the character that made him a perfect Sherlock.
He is often credited with being the closest to the author's original descriptions.
Peter Cushing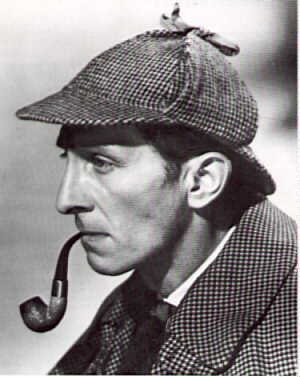 One of the more memorable actors to don the deerstalker, Cushing starred in the Hammer film The Hound Of The Baskervilles in 1959 and a later BBC series in 1968.
Although accepted as excellent, fans rate him below Jeremy Brett.
Robert Downey Jr.
Iron Man actor Rob created a wildly eccentric and untidy Sherlock in last year's Guy Ritchie film – which fitted how Conan Doyle had Watson describe his friend in the books.
But we're still not too sure about the bare-chest fighting.
We should keep watch on:
The new series of Sherlock on BBC1 and the magnificent
Benedict Cumberbatch

.
His name still doesn't trip off the tongue, but welcome to the TV stratosphere, Benedict Cumberbatch. Robert Downey Jr's reign as the hippest new Holmes on the Baker Street block has proved short-lived, and this BBC version should cast a long shadow over Guy Ritchie's movie sequel.
If you are a true fan:
Elementary Dear...
Do not foget one of the best Sherlock Holmes ever appeared on tv -
The Complete Granada Television Series starring Jeremy Brett.
A fun fact:
The Great Mouse Detective
is a 1986 animated feature produced by Walt Disney.
Based on the children's book series Basil of Baker Street by Eve Titus, it draws heavily on the tradition of Sherlock Holmes with a heroic mouse who consciously emulates the detective. Titus named the main character after actor Basil Rathbone, who is best remembered for playing Holmes in film. :)
I'm leaving you with a song by
Hans Zimmer
from the official soundtrack of Sherlock Holmes 2009 starring Robert Downey Jr.
This is
Discombobulate.
Enjoy. ;)